"We ain't gonna make no product that looks like crap. We want our stuff to be top-notch, so we can brag about it. That's how we roll at Wolffun Game. That's why our team keeps hustling to get better at our skills and our product quality to keep killing it in what we do." - Mr. Dai Nguyen, Head of Art, Wolffun Game.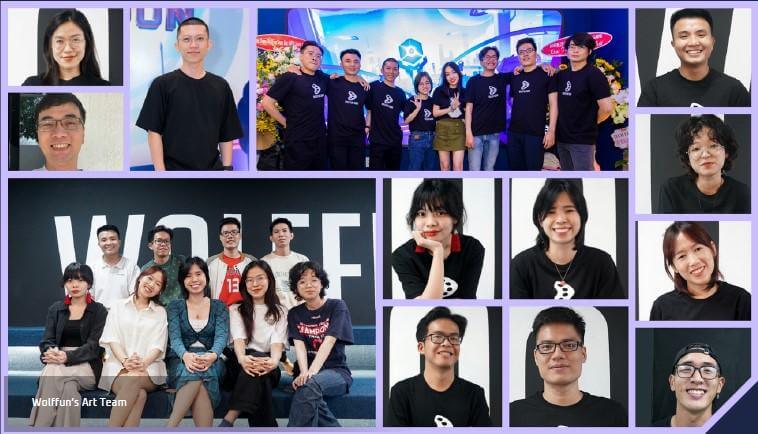 A game can't keep its users hooked with wack graphics, environment, and lame character animation. So the Art division's job is not just to design the characters and their movements but also to make them look dope as hell so the experience delivered to gamers will be off the hook.
"Our aim is to enable the players to inhabit their characters' experiences in a game as if they are truly living in that world and feeling all kinds of emotions. This is also a shared vision for Wolffun Game's products. You will sense your physical presence on the battlefield in Thetan Arena and on the racetracks full of challenges in Thetan Rivals."

"Regarding the 3D MOBA genre, we draw inspiration from the chibi art style of Heroes Strike - the predecessor of Thetan Arena. However, transitioning from the somewhat simple animation in Tank Raid (*) to the more complex animation of various combat styles in Thetan Arena proved to be a formidable challenge for our team." - Dai Nguyen recalled.

"Back then, we lacked experience, so to compensate for it, we researched a lot of other games and experimented by 'rebuilding' many times. We only had four members, including a game UI specialist, a concept artist, a 3D cum VFX specialist, and an animator, yet after only 6 months, we managed to complete the design of our first 12 characters. A majority of the difficulties we encountered at that time were regarding technical issues such as matching a character's animation with its design. A tanker like Breaker should not be able to move fluidly like Velvet, who is an assassin. By persisting in research and learning, we were able to design a variety of characters, take Chef Octopus for example, which is our most recent hero in Thetan Arena."
How come to an "Octopus" can fight alongside human-like heroes?
"Wolffun Game's ultimate aim is to deliver the best kind of enjoyment to our players, that is why we opt for the Chibi style. There is no good or evil in Thetan Arena, instead, each hero joins the fight to get the precious energy of Thetan Gem for their own benefit. So you can still spot Velvet, who is often perceived as cruel and rude, with a feminine design and friendly demeanor."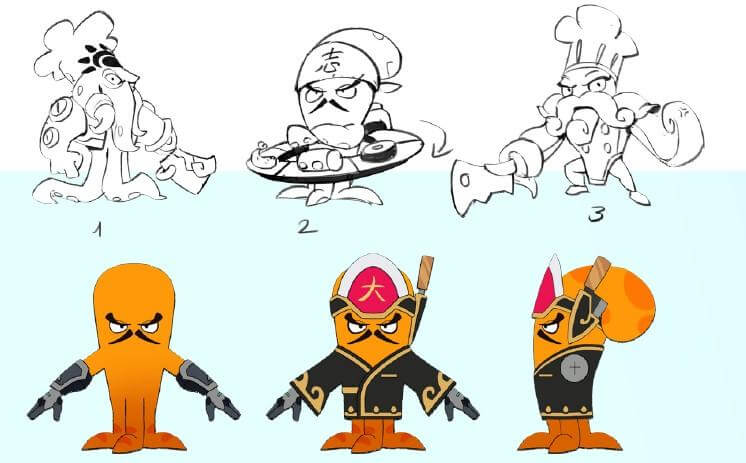 The allure in designing the heroes in Thetan Arena in the context of the futuristic universe is the fact that there is no differentiation between aliens, animals, and humans. We have a firm conviction that there is significant progress to be made collectively by humankind and society in the future, thus cross-species communication will no longer be a story of fiction. This, along with the personification of our characters, will enhance the diversity in the Thetan World.

"Chef Octopus once had a glorious past of leading his own gang of outlaws but decide to make amends and turned to the life of a seaside restaurant owner. His background helped us to decide on his supportive nature in the game and his serving as a source of life to teammates."
How do hero skins come into being?

The process of designing skins is akin to designing heroes. Although there are character models already available for reference, we still need to research the topics that the skins will be based on, like seasonal events, global or national holidays, and other major festivals such as the World Cup and the Olympics. When it comes to national or regional events, the team will meticulously examine the traditions, costumes, and culture to decide on the visual that matches the country or region that we choose.

"When the World Cup 2022 commenced, we were deciding which would fit the main target audience of the biggest festival on the planet. That was when Raidon, El Dragon, and Durass, whose new skins were respectively striker, goalkeeper, and referee, came in. The World Cup skins received great love from the community, which brought a lot of joy to us."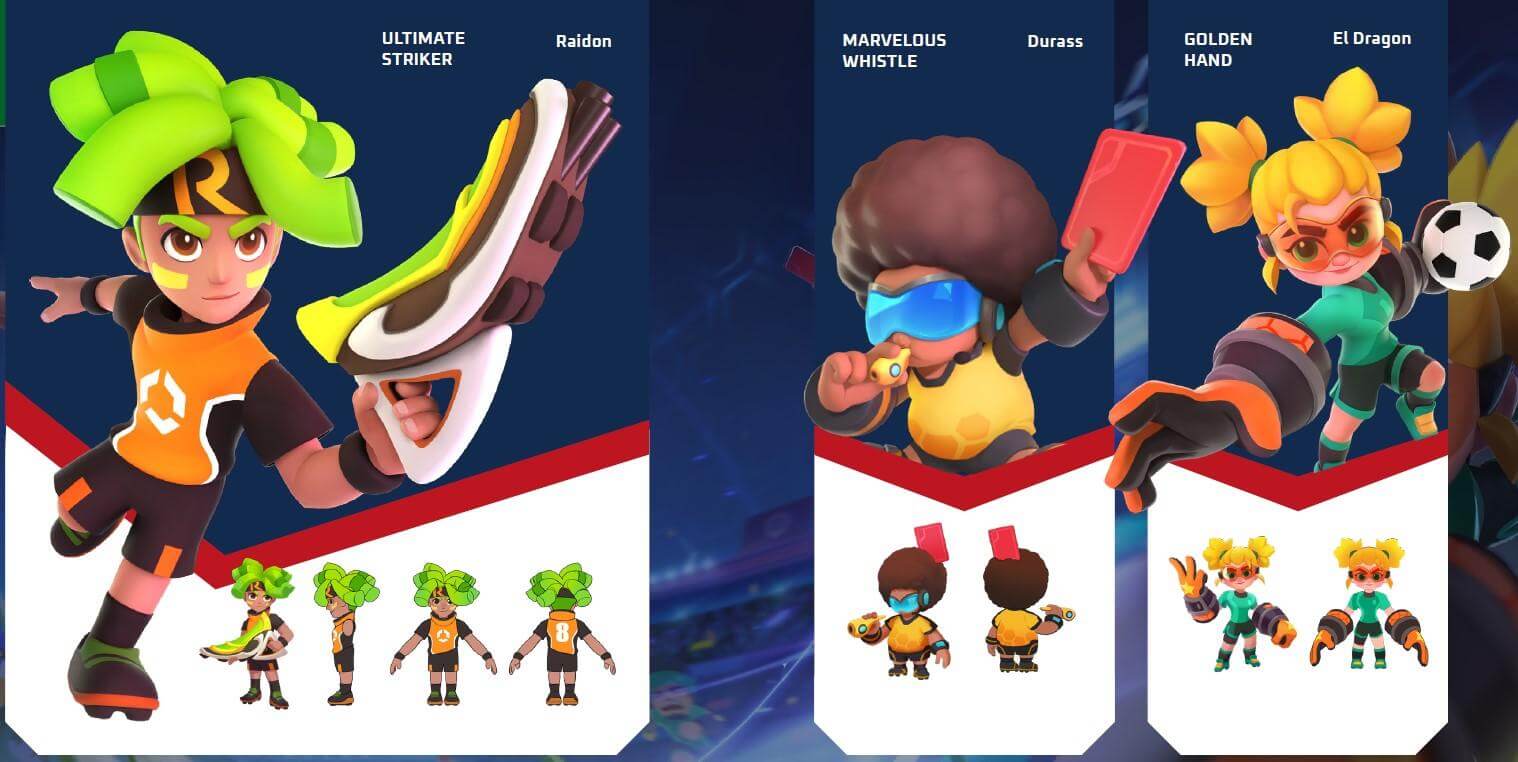 The Thetan 184 Collection
"Thetan 184 is an NFT collection that we created as a token of gratitude to the fans of Thetan Arena. Each NFT in the collection portrays a hero's characteristics and came to life thanks to the passion and creativity as well as the distinctive style of each member in the Art division." - Mr. Dai Nguyen revealed about the NFT collection named Thetan 184, launched in December 2022 in celebration of Thetan Arena's one-year anniversary.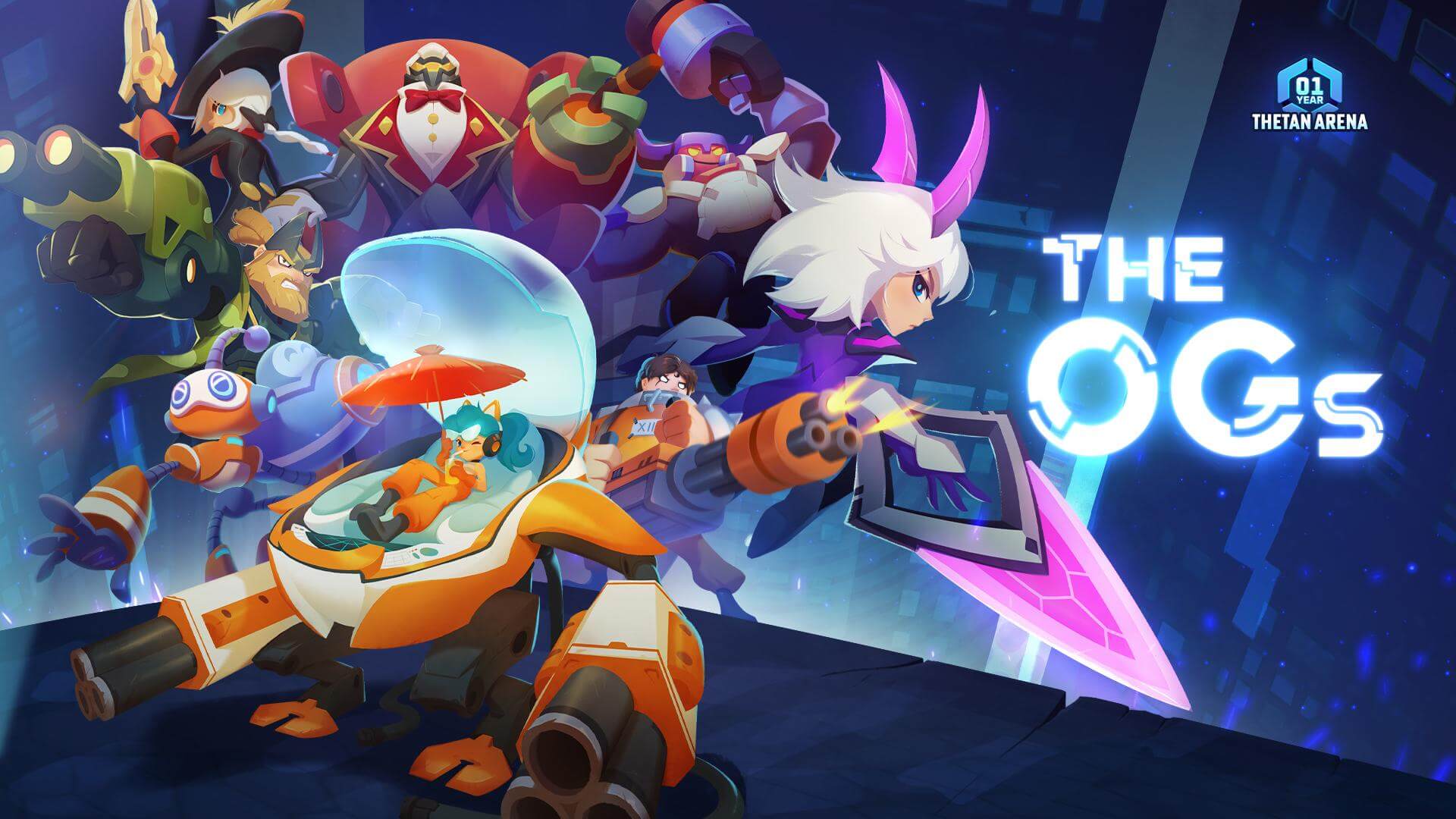 "We all are thrilled about the learning experience from the creation of Thetan Rivals. This is a game that will showcase the expertise of the team of Wolffun Game in the territory filled with many big dogs."
Keeping in mind the goal of developing the game series that will be part of Thetan World's ecosystem, the Art division currently has 19 members in charge of concept, 3D, animation, UI/UX, VFX, etc. Everybody is strongly focusing on this year's main project, Thetan Rivals, alongside new content for Thetan Arena. I believe you will find Thetan Rivals' exhilarating challenge level and superb art quality irresistible.
-----------------------------------------------
(*) Tank Raid was developed by Wolffun Game and launched in 2017. The game was honored by Google at G-Star Busan International Game Fair 2018 and Google Play Editor's Choice. Having attracted more than 5 million players globally as a game of the MOBA genre, Tank Raid laid the foundation for creating Heroes Strike and subsequently the inception of Thetan Arena.
-----------------------------------------------